Putting together your remote work environment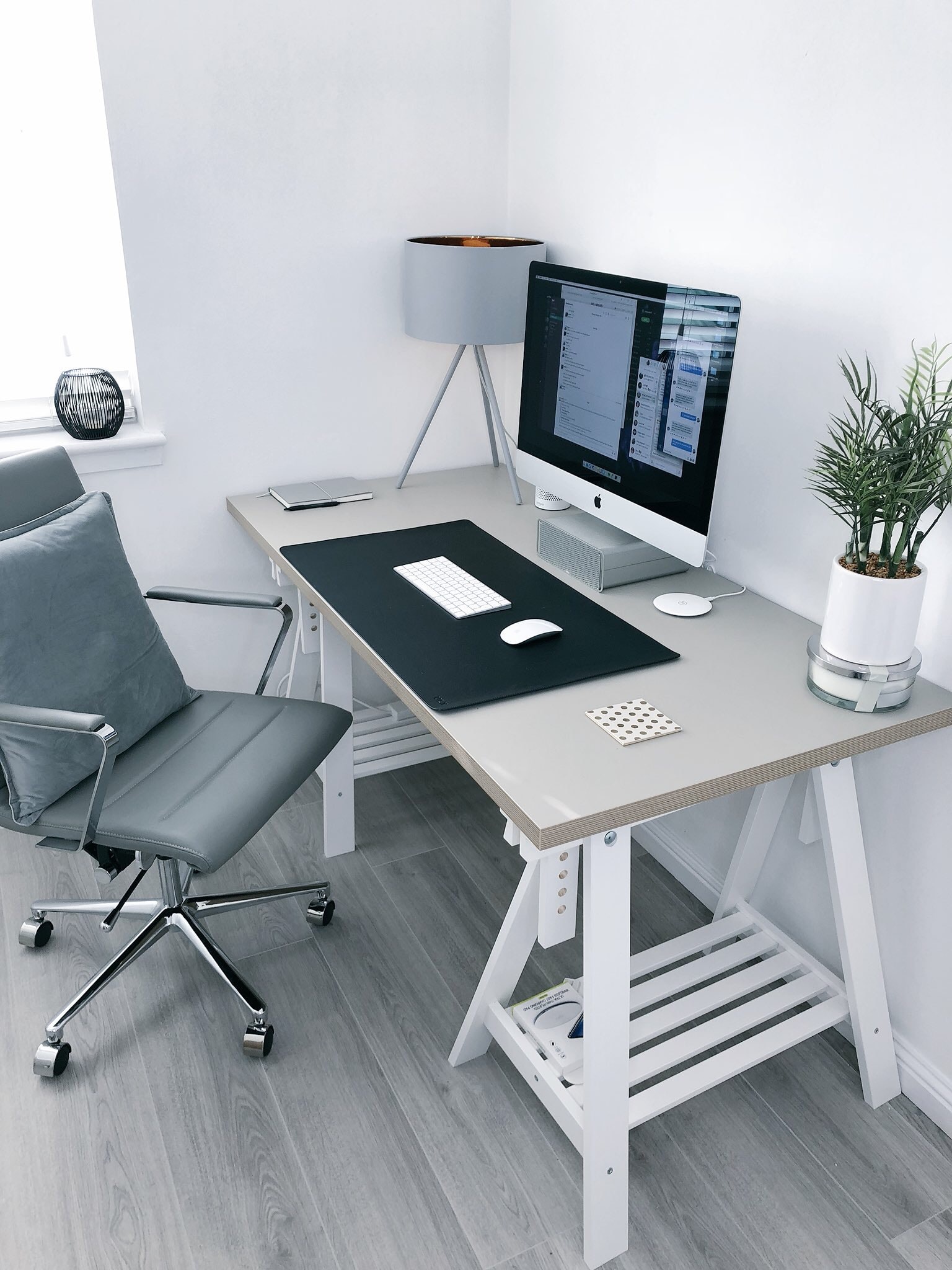 How to set up a home work environment that limits distractions and helps focus.
Separate Your Workspace
Being thrusted into a work-from-home environment presents a lot of new challenges to employees, a huge one being finding a balance between work and personal life now that those lines are blurring. Without the physical limitations of a commute and office, the spectrum of productivity can shift from putting in fewer hours to working overtime unknowingly. It's important to create a separation for your "office hours" to ensure you're both reaching your work potential and not getting burnt out. This could mean having a dedicated home office, transforming a spare room into your study, or rearranging furniture as necessary to create a new, identifiable space that is committed solely for work. Avoid using this same area for breaks or relaxation, giving your body and mind a chance to refresh and step away.
Be Comfortable, But Not Too Comfortable
The majority of the workday is spent sitting, so a comfortable chair that properly supports your back and body is something you will thank yourself for by day two. Keep your personal preferences and needs in mind; do you want an armless chair, how tall is your work surface, do you need to be stationary or roll and swivel? Since it is your home, take advantage of getting to test out various seating options or sitting positions and find something you like. That yoga ball you never use can make a good 30-minute seat if you're getting restless. The highbacked chaise from your grandmother might be the perfect height for your desk and can block ambient sound. Maybe sitting cross-legged helps you answer emails faster. A word of warning: it's easy to choose an option that's more comfortable than practical. Sitting in bed can turn into lying in bed and eventually sleeping in bed, which causes your productivity and mental health to plummet. If you do need to move around or change seats, set goals or time limits to keep yourself on track. Standing at the counter for 20 minutes or taking your conference call on the couch can help you to reset and give your body a break.
Proper Lighting
Remote work typically means computer-based tasks, but don't forget that adequate lighting is still essential. Light coming from a single source can cause dark shadows to pool around it, so if possible have more than one light source. Natural light is beneficial for your health as well as vision but avoid intense glares or having a bright window behind your computer screen. Your eyes get tired faster the more they have to strain to see or adjust for high contrasts, which can also lead to headaches. If you're writing or doing desk-based work, make sure you have a task light stationed over you, don't just rely on an overhead ambient light source. In your home, you may have to borrow lamps from other rooms to create a setup that's comfortable and practical for your needs. Lighting may also affect where you can position your workstation if your options are limited.
Prepared for Meetings
Whether it's internal meetings with coworkers or client conference calls, professionalism is necessary for teleconferencing. Is the room you're working in capable of being shut off from the rest of the house to limit distractions and sounds? Check the background of your space to make sure everything visible is appropriate for video meetings. If you have a lot of hard surfaces in your room, keep in mind that you may cause an echo on phone calls. Adjust your video and mic settings as appropriate for your space. Some more helpful hints:
Keep your keyboard away from the mic, everyone can hear you typing.
Don't be afraid of the mute button. If you aren't going to be speaking frequently, use it.
Check your internet connection and test out the software ahead of time. You don't want to spend the first 10 minutes of each meeting waiting for everyone to get on board.
Avoid having bright sunlight or windows directly behind you on a video call. Pull the blinds down or shut the drapes.
Keep in mind that while these meetings are a little awkward for everyone at first, they are still a critical part of the workday and encourage communication. Be respectful of everyone's time and stay focused on the call so that they are as efficient and painless as possible.
Stay Focused & Motivated
It's easy to get into a slump when you're stuck inside for long periods of time so make concerted efforts to avoid the lag. You don't work eight hours straight without any breaks in the office, so don't set unrealistic goals at home. Get up and stretch, take your dog for a quick walk, have a dedicated lunch break, help your kids with their e-learning, or make a cup of coffee. Most importantly, set hard start and stop
times for your work schedule at home. The more that your office schedule bleeds out into the whole day, the more you will resent remote work. Your home is an environment that you view as a sanctuary and it is important to maintain a degree of distancing from work responsibilities within it. Your interior environment is as good as you are willing to make and maintain it. Embrace the new challenges it gives you and personalize your space!
Authors: Katie Haines & Mandy Campbell