From Fort Wayne to Minnesota and back: How a FWPD squad car door made it to Elevatus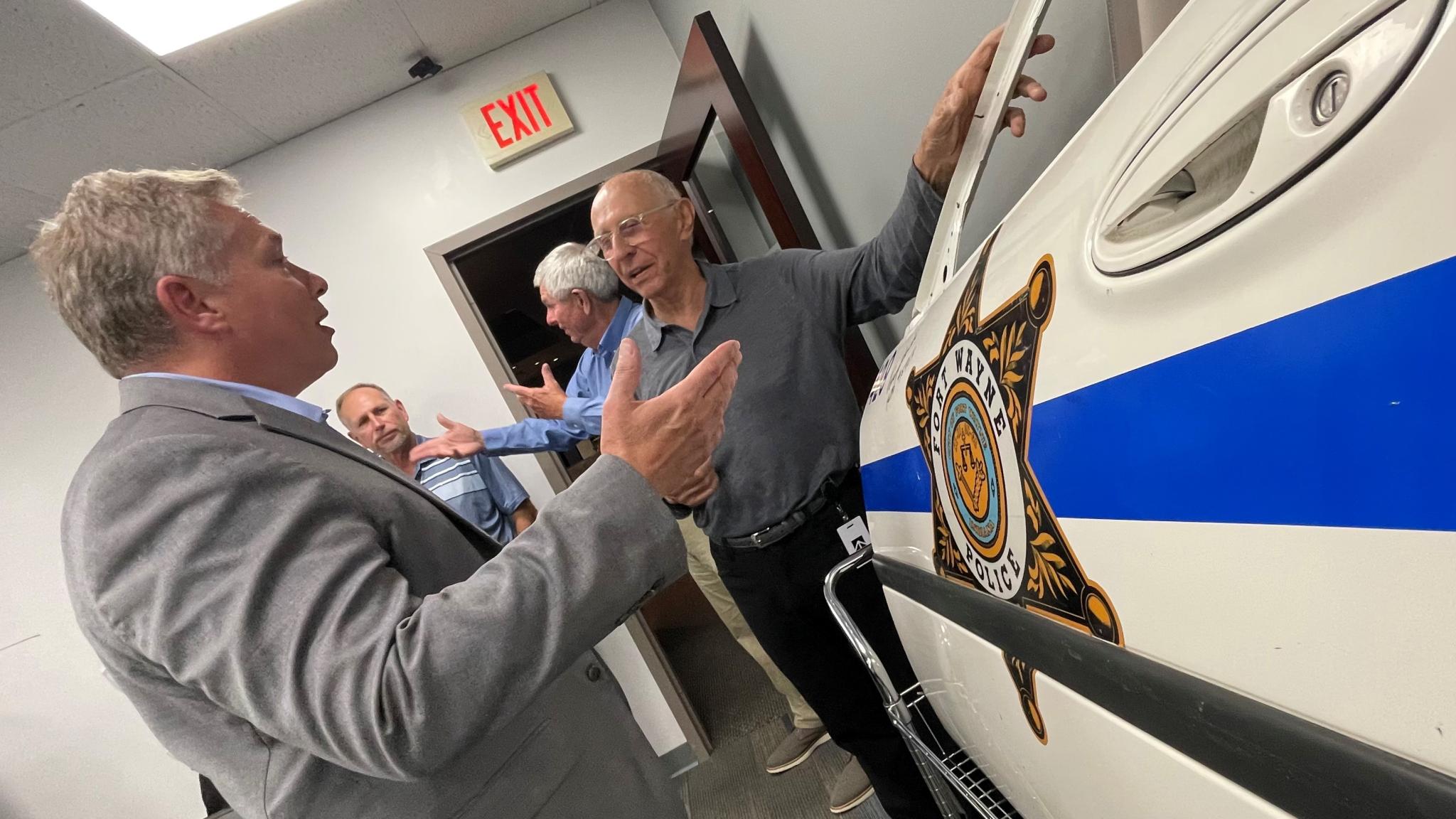 Paul Laney walked into a fourth-floor storage room of Alary's Bar in St. Paul, Minnesota, and there it was.
In a room filled with law enforcement memorabilia from around the country, five feet from a freight elevator sat a police squad car door that Laney now believes he was fated to find.
The door was emblazoned with a Fort Wayne Police Department logo.
"Right there, propped just perfect like it was displayed for me, was Fort Wayne, Indiana, Fort Wayne Police Department," Laney recalled. "I go, 'That's an omen. That's going to the boss. And we made that happen."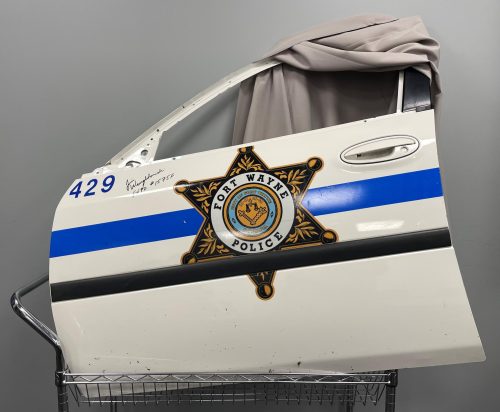 So wait, how'd a FWPD squad car door get to a Twin Cities sports bar? Let's rewind a bit.
About 10 years ago, Jim Wenglikowski of the Fort Wayne Police Department was visiting family in Minneapolis and went into Alary's, which was known as a cop bar of sorts. While he was there, the owner stopped at his table, and Wenglikowski offered him a FWPD patch to go along with the rest of the bar's displayed police memorabilia.
The owner had something else in mind.
"He goes, 'I'd really like a car door from you," Wenglikowski recalled.
Back in Fort Wayne, Wenglikowski figured he'd see what he could do, and he took the request to his superior. Surprisingly, he got an "OK."
The door was pulled from a wrecked squad car that was to be salvaged. It sat in Wenglikowski's garage for a year before he finally made it back to Minneapolis for his nephew's wedding.
"So I gave it to (Alary's), signed it, and didn't think anything of it, until about two months ago…" Wenglikowski said.
That was about the time another Elevatus Justice Specialist, Doug Dukes, began working on the logistics to surprise Elevatus CEO Mike Gouloff and President Cory Miller with the door. Dukes tracked down Wenglikowski from his signature on the door and called him up at the police department and shared the story of the discovery of the door.
"Really?" Wenglikowski recalled blurting after learning about the door.
Crazy coincidence, right?
So back in Fort Wayne, 550 miles away from the bar it called home for the last decade, Wenglikowski and other Fort Wayne Police Department personnel gathered with Laney, Dukes, and some other Elevatus team members to surprise Gouloff and Miller with the door.
The surprise touched Gouloff.
"We have a special place in our heart for public safety officials all across America, not just Fort Wayne. We do a lot of work across the country," said Gouloff. "This is just a special day for me. I don't get caught off-guard very often, but this is one of those days."
The door will be displayed in a new space that is currently being designed to accommodate the growth of Elevatus.
"It's like a piece of art on our wall," Gouloff said. "There are memories that go with this that we don't even know about. Some officer slammed this door every day, got in and out of the squad car, did his job or her job, and made a difference in the city we live in. It's a real honor just to have this."
From the line of duty, to a sports bar, to an architecture firm. You never know what can happen when a door opens.