'Believe': Elevatus CEO Mike Gouloff's paintings of Santa celebrate meaning of Christmas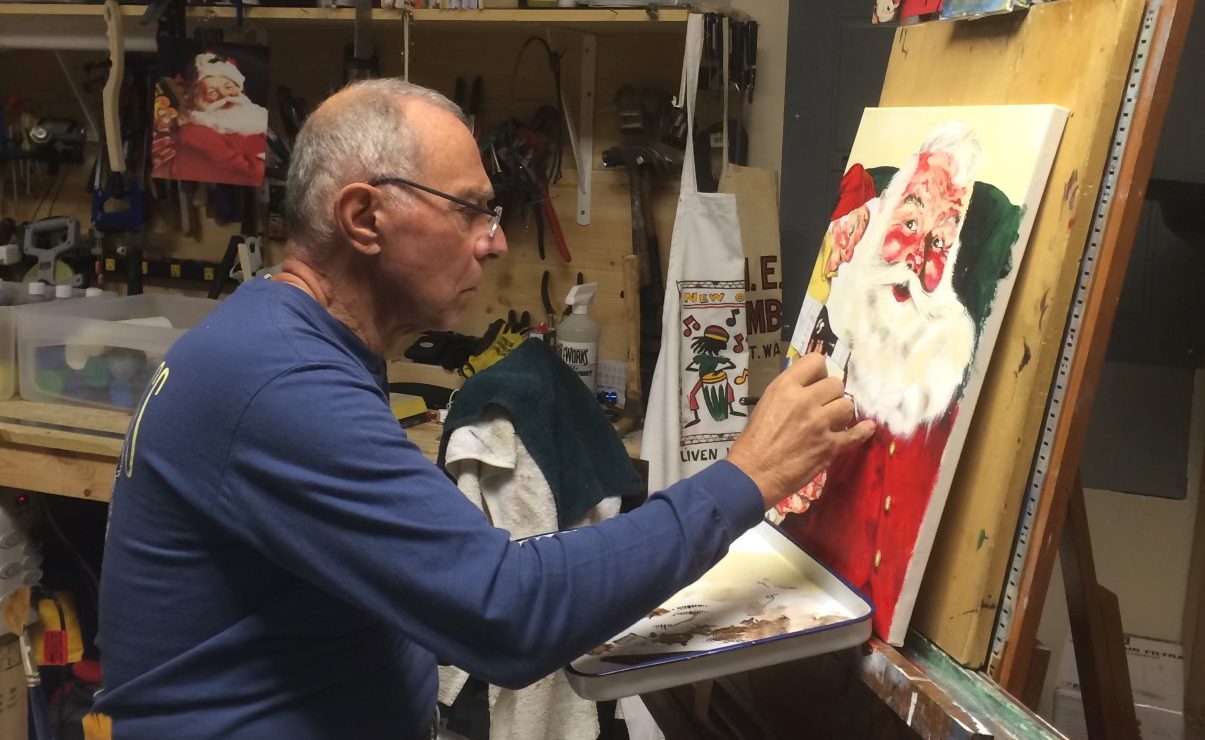 Tucked away in a quaint workshop in the basement of his Fort Wayne home, Mike Gouloff paints. His brushes create a face, then a red stocking hat, and eventually, a white beard.
One after the other, the canvases become art.
Santas.
Mike isn't a professional artist per se, rather an architect and the CEO of quickly growing Elevatus Architecture. But he has developed quite the operation out of his basement: he paints these Santas and gives them to friends and family as Christmas gifts.
Mike's painted nearly 80 Santas since his daughters first asked for one back in 2013. Today, they're hanging in homes all over the world, including those of celebrities, professional athletes, and fighter pilots.
Why Santas? Well, you have to believe.
Mike's dad painted a Santa years prior that Mike and his wife now hang in their own home each Christmas season. In 2013 then, when his girls asked for their own, Mike painted his first Santas.
And the giving began. Mike gave his daughters one apiece, and gave the other two away as gifts.
The next year, Mike told his wife he wanted to paint some more Santas, and ended up painting nine more. That season, Mike added personal cards with his Santas, which he sticks in a back corner of the frame.
The cards explain why he paints his Santas.
"The note talks about what this is all about," Mike says. "These Santas have an inscription on the back, that is, 'Believe.' It isn't really about believing in Santa, it's about believing. The humanity in us comes out at Christmas, and it's so important for us to celebrate that humanity."
It takes Mike about a day to paint each Santa, each one unique to its intended recipient. "It's real work," he insists, but it's hard to believe that.
There's just too much joy.
"It's a labor of love," Mike admits. "I do this because the tradition my dad started, and I do it because Christmas is important and there's a spirit that goes with it – the spirit of giving and receiving. Giving and receiving are two very different things but they're two special things. Receiving a gift from anyone is very special, and giving a gift – I think – is more special. Giving a gift that I've created myself is important to me. I love what people do when they get their Santa, because they believe. I guarantee you, they believe."
"For me, it's just a heartfelt feeling that I've done something that touched somebody."
Sounds like something Santa himself would say, doesn't it?