Current trends in K-12 education design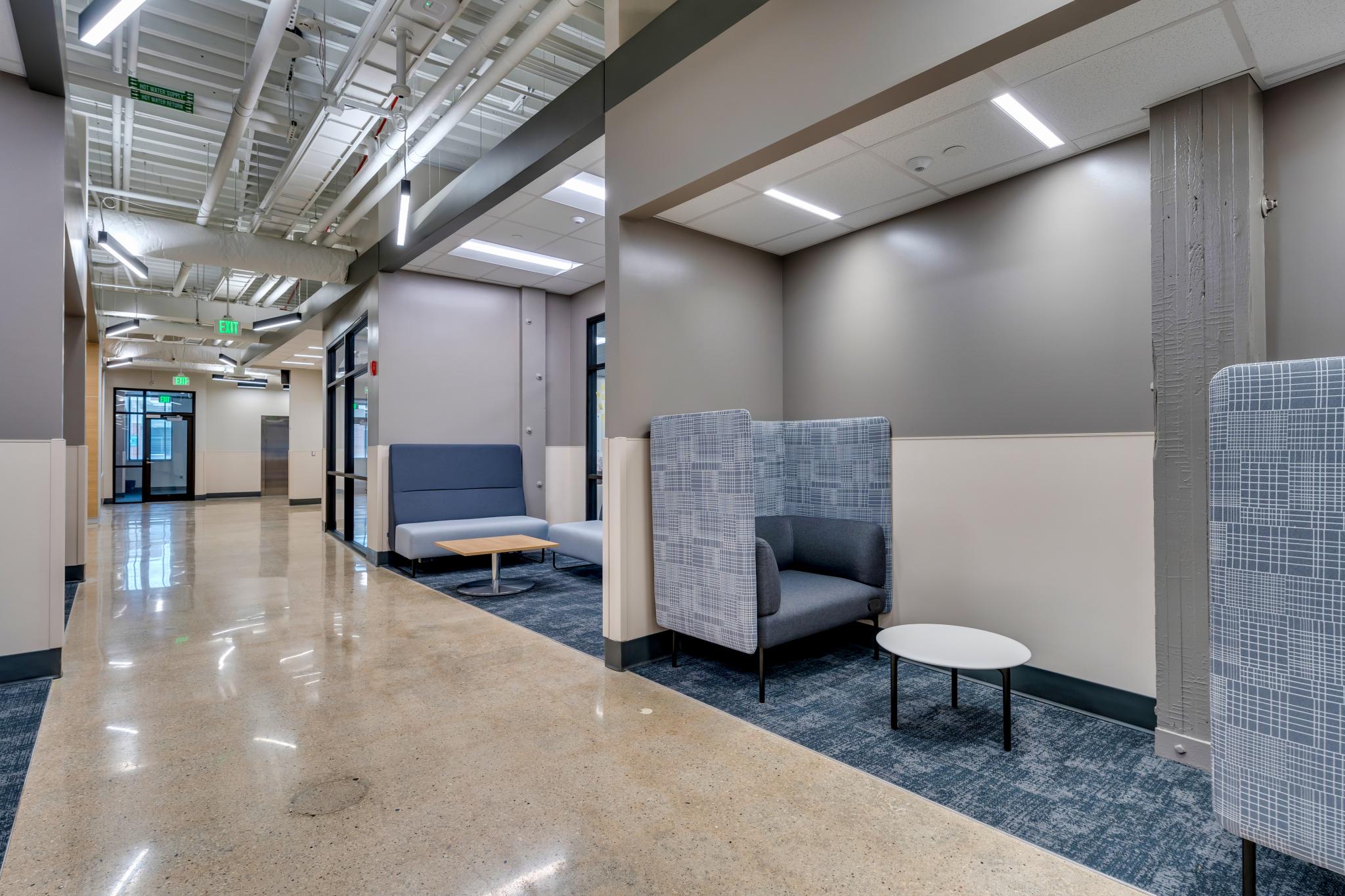 What kind of learning spaces do students learn best in? It's a question that school districts around Indiana and the United States continually work to determine.
It's where education designers find a purpose.
To learn what school districts are looking for nowadays, we sat down with Elevatus Education Team members. Here's what's trending in K-12 education design:
Variety in Education Paths
As STEM, STEAM, and CTE continue to permeate K-12 education, many school districts are working to determine how exactly they'll offer the alternative learning to their students. Some schools or districts are dedicating space to different programming, and others are developing distinct schools to teach tech or skilled trades. Many districts cannot afford to hire teachers for multiple alternative learning, though, so regional career prep schools shared by multiple schools or districts are becoming in demand. Teaching all students for all career pathways is the goal.
Security
Schools must be a safe place for students and staff, and security has been top of mind for years now. Today, designers are working to increase security without increasing its visibility. Schools should feel comfortable and approachable, and often heightened security can create an institutional feeling. Walking through large metal detectors can have a negative impact on a student's mental health as they might instinctively wonder, Why is this necessary? Should I be afraid? We know, though, that security like that is important, so the challenge is to utilize it in a smart, unobtrusive way.
Athletic Upgrades
School districts are all in on enhancements to their athletic fields and facilities – or new ones altogether. Why? Often, it's about recruiting student athletes with modern amenities like turf playing surfaces, technology-rich gymnasiums, locker rooms, lighting, or weight and training rooms. Other times it's about ensuring all sports have comparable facilities – the same playing field, so to speak. Some districts are even creating athletic facilities that can be used by the community, which can then generate year-round revenue for the district. Either way, athletics are being prioritized at school districts near and far.
Flexible Multi-Purpose Spaces
The days of the traditional classroom are passing us by. Today, school districts are looking for flexible spaces where students and classes can collaborate with others. From a design perspective, it's about creating flexible spaces for different uses now, but considerations are made during design, such as structural decisions, that will allow the school to use that same space for a completely different purpose down the road. When a teaching model/student body/size changes, the school can put up a wall or make another minor change and easily assign a different program to the space. The capability helps to get a longer life out of the building. Beyond the walls, the technology and the furniture that are used can also give schools or teachers the flexibility to adjust or broaden their lessons.
Space to Hang
More and more, schools, especially high schools, are beginning to look like college campuses, and a big part of that are common areas to work, meet up, or relax. Students are drawn to areas like courtyards or oversized staircases meant to sit and socialize, outfitted with electrical outlets or charging stations. These spaces allow students to mingle, collaborate on group projects, and tune their soft skills. Through these spaces, school districts can support the mental health of their students.
Easily Expandable
As enrollment numbers fluctuate, school districts must adjust, and that can't always mean building whole schools. Modern education design involves planning for the future. School buildings that can be easily expanded without a full reconfiguration of the school can be a highly economical move for a growing district. On the other hand, for a shrinking district that might have to consolidate schools and create a K-12 building, expanding without requiring students of different ages to encounter one another during the school day would be preferable. Smart planning for the future is the name of the game.
Education Design Leader Emily Hower, architect Sam Schaust, and Project Executive of Education Nik Vilamaa contributed to this post.