Take the LEED: How and why to get 'Green' credential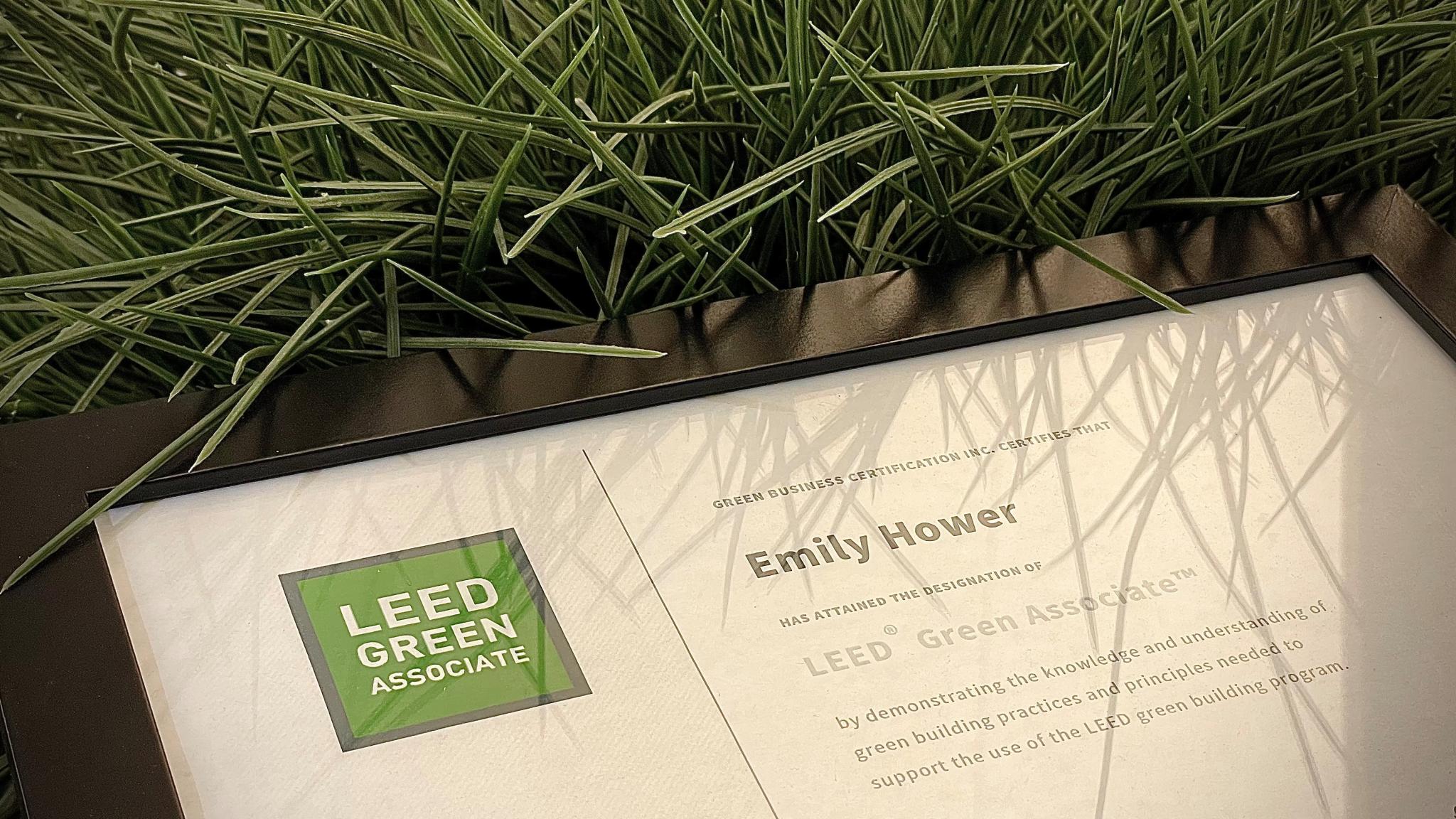 Emily Hower's drive to help her planet goes beyond recycling milk jugs. She lives it in all areas of her life, including as a licensed architect with Elevatus.
While still a student at Ball State University's R. Wayne Estopinal College of Architecture and Planning, Emily earned her LEED Green Associate credential. LEED, which stands for Leadership in Energy and Environmental Design, works to achieve healthy, efficient, carbon and cost-saving green buildings.
How is that done? By building up a flock of LEED Green Associates – like Emily.
Here's how they first got her interested:
"I was invited, along with 4 other students in the BSU R. Wayne Estopinal College of Architecture and Planning, to participate in an independent study LEED Lab course. It was an excellent real-world learning experience because we worked together to fulfill the documentation to LEED certify a real building being built on campus. It was the new Multicultural Center that was planned (now completed) to be built near the architecture building and library on campus. We each took a category or two and completed the documentation to show that the design of the building fulfilled the requirements in the given category. It was not typical to be working on an actual project. A majority of the work done in design school is theoretical or at least is never built."
From there, Emily sought her credential. LEED certification, according to the U.S. Green Building Council's website, is a "globally recognized symbol of sustainability achievement." LEED Green Associates are "equipped with the knowledge and skills necessary to promote and implement green building practices in your workplace and community," the website says.
To achieve a LEED Green credential, professionals must pass a 2-hour, 200-point exam made up of 100 questions on green building practices and LEED projects. Emily said she studied about 40 hours to prepare for the exam.
Emily keeps up her credential with 15 continuing education credits every 2 years, three of which must be LEED specific. It's her way of helping the planet and making a difference.
"I have been interested in small moves I can make, on a personal level, to make a positive impact on the planet for decades," Emily said. "When I learned about the LEED at Ball State and how it is about keeping the impact design makes on the earth in mind, it seemed like a natural fit and something I would like to learn about more."
"It is important to me to reduce my impact on this planet in my time here if I can. The LEED credential is a way to incorporate that in my profession and I hope I have the opportunity to certify several builds during my career. I believe I learned at one point that buildings are the single largest contributor to carbon emissions in our environment, surpassing those of vehicles. What better target for sustainable solutions than the better, intentional design of the buildings around us with which I am becoming intimately involved."
Elevatus Principal and Project Manager Jon Hubart also has a LEED AP credential.